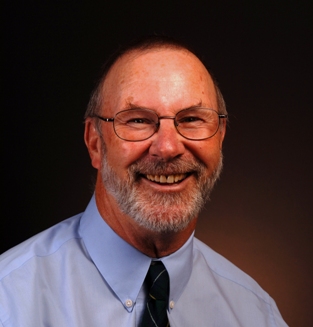 Dr. Paul C. Marsh
Owner and PI
Ph.D. 1979, University of Minnesota


Ecology and Conservation of Southwestern Fishes



Dr. Marsh's research deals broadly with aquatic ecology in the arid southwest, with emphasis on the community of imperiled native fishes of the region (the suite of indigenous taxa occupying a diversity of aquatic habitats in western United States and Mexico). Laboratory investigations supplement a strong field program examining basic life history characteristics and population and community biology. These pursuits go hand-in-hand with applied management in behalf of target species. Activities are strongly collaborative with academia, state and federal resource agencies, non-governmental organizations, and the private sector.
fish.dr@nativefishlab.net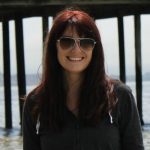 Beverly Ross
General Manager
B.S. Accountancy, National University
Beverly has worked as a contractor for the Native Fish Lab since 2009 and became a full time employee August of 2014. Her love of the outdoors makes her office work easy to be passionate about. She is also the Treasurer of Marsh Education, and dedicated to get Sharing Tails back in Arizona schools.
bev@nativefishlab.net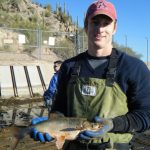 Brian Kesner
Senior Project Manager
M.S. 2004, James Cook University, Queensland, Australia
Brian is interested in quantitatively assessing the status and trends of 'big river' native fish stocks in the Colorado River. His approach uses standard statistical techniques but he also is developing and applying techniques that are unique to the type of data available and the difficulties associated with data for species that are rare and reintroduced. He also likes to get his feet wet occasionally and assists with monitoring programs throughout the Colorado River basin in Arizona and farther a field. Brian has worked with Dr. Marsh and the Native Fish Lab since 1998.
bkesner@nativefishlab.net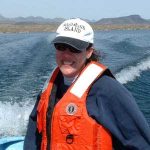 Carol Pacey
Project Manager
M.S. 1996, Texas A&M University
Ms. Pacey has been with the Native Fish Lab since 1998 and plays multiple roles within the organization. She developed and presents statewide the wildly successful "Sharing Tails" educational program that teaches kindergarten and early elementary school children about native Arizona fishes (see the link above and on our home page). She also is responsible for primary maintenance of the lower Colorado River native fishes PIT tag mark and recapture database and analyzes and interprets field data for reports and publications. When not too busy with other duties she assists with field and laboratory work, makes presentations to professional groups, attends meetings, and interacts with M&As myriad cooperators.
cpacey@nativefishlab.net
Ben Miller
Fisheries Scientist
B.S. 2018, Aquatic Biology with Fisheries Biology Emphasis, Bemidji State University
Ben joined the Marsh and Associates team in spring of 2018. He assists with all types of field work including stream surveys for the Gila River Monitoring Project and PIT scanning efforts associated with Razorback Sucker and Bonytail in the Lower Colorado River system. If not in the field, his duties include building PIT scanning antennas, maintaining equipment and vehicles, and assisting with data entry and other office work as needed. As an avid nature lover, he is passionate about the aquatic world and enjoys any activity related to water and/or the biota found there. Being from Minnesota, he developed his aquatic interests at an early age and relishes the opportunity to assist in the fight for native southwestern fishes.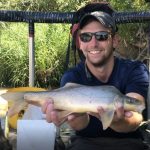 Kurtis Shollenberger
Fisheries Scientist
B.S. 2014 Environmental Science, Elizabethtown College, Pennsylvania
M.S. 2019 Fisheries and Aquatic Sciences, Auburn University, Alabama
Kurt joined the Marsh & Associates team in May of 2019 after finishing his master's program at AU focusing his research on the distribution of the Snail Darter in Northern Alabama using environmental DNA. Kurt enjoys the outdoors and is passionate about the conservation of native species. At M&A, he assists with the monitoring of native fishes in the Gila River Basin and assessing the population status of Razorback Suckers and Bonytail Chub in Lake Mohave and below Palo Verde Dam. When not in the field, Kurt helps with writing technical reports, data analysis, and constructing PIT scanners.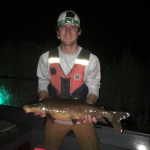 Pat Beyhan
Fisheries Technician
B.A. 2015 Sociology, New Mexico State University
B.S. 2018 Aquatic Ecology, New Mexico State University
Pat joined the Marsh & Associates team in August, 2019. Pat assists with all the field projects being conducted throughout the year. When not in the field he helps build PIT scanning antennas, maintains field equipment and vehicles, and enters data. His interest towards fish, wildlife, and ecosystems started at a young age exploring New Mexico. Growing up in the southwest he understands the importance of preserving water resources and the native fishes found within them.
pbeyhan@nativefishlab.net
Stephanie Serritello
Fisheries Technician
B.S. 2014 Earth and Environmental Science, Lehigh University
Stepanie joined Marsh & Associates in February 2021.
Alec Bauer
Fisheries Technician
B.S. 2017 Wildlife and Fisheries Conservation Biology, University of California Davis
Alec joined Marsh & Associates in May 2021 and primarily assists in monitoring native fishes. When not deploying scanners, removing invasive species, or counting fish, Alec can be found in the lab repairing scanners and managing data. Originally from the mountains of California, Alec has been an avid fisherman and passionate environmentalist for as long as he can remember. Alec has been working with desert fishes since 2017 and is excited to continue to work on fishery conservation in the southwest.